Improve your smile
If you want to present the world with your best smile, it is very important to look after your teeth properly. We all know we should avoid certain bad habits such as smoking or eating too many sugary foods. Regular brushing and flossing will also greatly help to prevent oral health problems, but sometimes that just isn't enough to achieve your dream smile. Visiting our cosmetic dentist in Kingston at Kingston Dental Clinic can help give your smile a boost.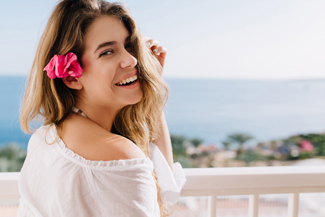 We offer an array of cosmetic dentistry procedures to make over your smile and make you ready for any unexpected photo opportunity. Perhaps you have never considered visiting a cosmetic dentist in Kingston before, but read on and see if you might consider us.
Teeth whitening
Discolouration of your teeth can be caused by a lot of everyday habits and many of our patients have problems with staining and yellowing.
For truly effective and long-lasting whitening results, we will always recommend using professional whitening treatments that must be provided under the supervision of a dentist here at Kingston Dental Clinic. Our treatments contain a whitening solution at a concentration that is not available in over-the-counter products and which can be prescribed by a cosmetic dentist in Kingston.
This form of cosmetic dentistry will ensure that you get a shade of white that looks natural and healthy to match the new healthy and happier you.
Dental implants
If you have missing teeth or perhaps no teeth at all, we offer a reliable and trustworthy solution – dental implants. These are tiny screws implanted directly into your jawbone, which create a very strong artificial root, onto which we can place replacement teeth or bridges. The results can last a lifetime. Imagine no more problems with speaking or eating and the ability to reverse the sunken look that missing teeth can give to your face.
Come and speak to us
If you are considering visiting a cosmetic dentist in Kingston, we could provide you with just what you have been looking for. Contact our friendly reception team today and be a step closer to a dream smile to be proud of.
---