Achieve a beautiful smile by visiting a cosmetic dentist in Kingston
It is not possible to overemphasise the emotional, social and even professional benefits that a beautiful smile can give you. However, not everyone is born with a perfect set of teeth. If you find that you cover your mouth when you smile, or even avoid smiling because you are afraid to show your teeth, maybe it's time to consider cosmetic dentistry.
At Kingston Dental Clinic, cosmetic dentistry is the art of smile enhancement. From powerful, professional whitening treatments to natural-looking porcelain veneers to a complete smile makeover, we offer a wide range of treatments that are specifically designed for your individual needs. Our cosmetic dentist in Kingston will examine your teeth thoroughly and help you decide which treatment is right for you.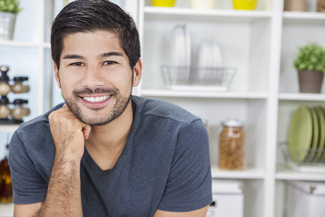 Teeth whitening
Teeth whitening is a very popular cosmetic treatment that is designed to restore whiteness back to your teeth. As we age, our teeth tend to become yellow and discoloured and this is the result of many factors including caffeine, red wine, smoking and certain medications. Luckily, professional teeth whitening can restore the brightness of your teeth safely and effectively. Our teeth whitening treatments can be performed either in the dentist's chair or in the comfort of your own home. Both procedures are supervised by our cosmetic dentist in Kingston and have proven to be highly effective over time.
Dental veneers
Dental veneers are hand-crafted, thin shells of dental porcelain that are glued to the front teeth. They are stain resistant and custom-coloured to blend with your natural teeth. Veneers can dramatically transform your smile by correcting flaws like permanently stained, gapped, chipped, cracked, crooked and misshapen teeth.
Smile makeovers
As the name suggests a smile makeover is an improved version of your smile, designed to look better in many ways. A smile makeover is a combination of more than one cosmetic treatments and involves more than one tooth. The most frequent treatments used in a smile makeover are multiple porcelain veneers because they are strong and highly aesthetic.
Get in touch
Interested in cosmetic dentistry in Kingston but do not know where to start? Give us a call and we will book a consultation appointment for you.
---