The benefits of a smile
Everyone loves a beautiful smile. Even science agrees that smiling is good for you. Studies show that grinning a genuine grin (one where your eyes crinkle up) can reduce your heart rate and blood pressure, lower stress and anxiety levels and strengthen your immune system. It also releases a cascade of positive chemicals such as endorphins, dopamine and serotonin, giving you a warm and fuzzy feeling.
And it can help you relate to others too. When we see another smile, we almost can't help but smile back. Psychological studies say that smiling makes you more attractive and gives others the feeling that you are warm, friendly and open. All of this builds rapport and makes relationship easier.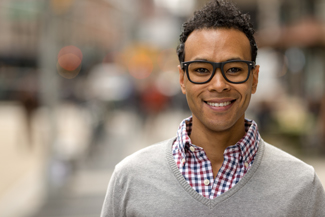 So far from being a purely superficial concern, feeling good about your smile can have all kinds of life benefits. If you feel at ease in yourself and relationships run smoothly, this makes so much more possible in your work and social life.
Create a brand-new smile
So, the benefits of smiling are many. Question is, have you joined the smile party? Do you feel able to fully express your grin? If you have doubts about your teeth, a trip to the cosmetic dentist in Kingston could be in order.
And it's no wonder more and more people want to visit the cosmetic dentist in Kingston. At Kingston Dental Clinic, we offer many different treatments to boost the brilliance of your teeth, including:
Teeth whitening – get brighter teeth in-clinic or at-home with the Enliven whitening system. Guarantees a B1 shade, the whitest shade available in the UK.
Dental veneers – thin, porcelain sheaths that fit over the front of your teeth, covering up small gaps, stains and chips.
Teeth straightening – we use Invisalign clear aligners to correct mild to moderate misalignments of the teeth.
Restorations – bridges, dentures, crowns and dental implants, whether you have cracked, chipped or missing teeth, we can fill in the gaps with natural looking replacements.
Smile makeovers – combine two or more treatments for a complete makeover of your smile.
Find out more
Call into the surgery today or give us a call and talk to our cosmetic dentist in Kingston about how you can join the smile party.
---